"
When the world needed a hero, they called a villain.
"
 

— Tagline
Despicable Me 2 is a 2013 romantic science-fiction comedy film and the sequel to the 2010 animated 3D film, Despicable Me. Produced by Illumination Entertainment for Universal Pictures, it is directed again by Pierre Coffin and Chris Renaud, and written by Cinco Paul and Ken Daurio. Steve Carell, Russell Brand, Miranda Cosgrove, and Kristen Wiig reprised their roles. New cast includes Benjamin Bratt as Eduardo, Gru's nemesis, Moisés Arias as Antonio and Steve Coogan as Silas Ramsbottom, the head of the Anti-Villain League. The film was released on June 13, 2013. It is the third highest-grossing film of 2013 (behind Frozen and Iron Man 3), the second highest-grossing animated film of 2013 (behind Frozen), the 49th highest-grossing film of all time (20th at the time of its release) and the 11th highest-grossing animated film of all time (behind The Lion King (2019), Frozen II, Frozen, Incredibles 2, Minions, Toy Story 4, Toy Story 3, Despicable Me 3, Finding Dory and Zootopia) second at the time of its release (behind Toy Story 3)). It stars Steve Carell, Kristen Wiig and Benjamin Bratt, with Miranda Cosgrove, Elsie Fisher, Dana Gaier, Russell Brand, Frank Welker, Pierre Coffin and Chris Renaud in supporting roles.
Plot
2013, A secret laboratory in the Arctic Circle has just been stolen with a mysterious giant magnet. This arouses the suspicion of the Anti-Villain League, as the lab contains the mutagen, PX-41, that can transform living things into evil, indestructible killing machines. The organization must find someone to stop the mutagen from falling into the wrong hands.
To that end, Lucy Wilde, an AVL agent, forcibly abducts ex-villain Gru, and takes him to the AVL's underwater headquarters, where its director, Silas Ramsbottom, asks Gru to assist its agents in their efforts to track down the perpetrator and the missing mutagen. Gru refuses, preferring to concentrate on his new venture of producing bottled jellies and the responsibilities of being a father to his three adopted girls. Before he leaves, Lucy admits she was impressed by his work as a villain and gives her namecard to Gru, urging him to contact her if he changes his mind. Upon returning to his lab, Gru discovers that his Minion-run production line churned out an awful-tasting jelly. Additionally, his research scientist, Dr. Nefario, confesses to Gru that he misses being "evil" and has been offered employment elsewhere. After giving Dr. Nefario a 21 fart-gun salute send-off with the minions, Gru contacts Lucy and takes on the task of recovering the stolen mutagen.
The PX-41's distinct chemical signature narrows the search to the confines of The Paradise shopping mall. Gru works undercover as the owner of a cupcake shop in that mall with Lucy being assigned as his partner. He suspects one of the owners of a restaurant, named Eduardo Perez, in the mall to be an old super-villain called El Macho. El Macho supposedly met his fiery demise after body-strapping TNT and riding a shark into an active volcano. Lucy and Gru then decide to break into his restaurant and narrowly escape from being caught, but find nothing to attach Eduardo to the crime. While the team is having more progress investigating wig merchant Floyd Eagle-san, Margo begins to develop a crush on Eduardo's son, Antonio, to Gru's frustration. The whole family is invited to Eduardo's Cinco de Mayo party at his mansion where Gru's over-protectiveness of his daughter leads him to make baseless wild accusations to the AVL about Eduardo as El Macho and his son, which are scoffed at.
Later that day, a determined matchmaking neighbour, Jillian, sets a reluctant Gru up on a date with her rude and superficial friend Shannon. During the date, Shannon discovers Gru's wig and threatens to humiliate him, but Lucy saves him by shooting her butt with a Mild Moose Tranquilizer Dart which made her butt tocks clench and passed out quickly. They take Shannon home and Gru falls in love with Lucy. When he arrives at the mall the next day, the Anti-Villain League arrests Floyd Eagle-san, who protests vehemently that he was framed, after the AVL team uncovers the empty mutagen jar in his shop. The Chief of AVL tells Gru that the case is now closed and that Lucy will transferred to the AVL's Australian branch. Gru, unable to muster the courage to ask Lucy out despite deliberating for a long time, incinerates his telephone out of frustration.
The family then goes to Eduardo's party. Gru follows Eduardo and discovers that he was correct about Eduardo. Gru also discovers that Dr. Nefario has been working for Eduardo and that the duo has been capturing and mutating some of the Minions into the same purple-furred monsters as the serum creates. Eduardo offers Gru a chance to conquer the world, but Gru makes his excuses and hastily leaves with the girls. Margo has also broken up with Antonio as he became interested in another girl. Gru tells Margo he stinks. For breaking her heart, Gru encases him in a block of ice with his freeze-ray.
Lucy, while in the plane bound for Australia, realizes that she wants to be with Gru, and jumps out to hang-glide to the party. Eduardo discovers who she is, after his chicken retrieves her AVL ID badge from her purse, and captures her. Dr. Nefario calls Gru to tell him that Lucy has been captured. Gru disguises two of his minions in purple paint, which escort his "captured" self into the Eduardo's compound in a rescue attempt. Gru manages to restore the minions who are under El Macho's control using the PX-41 Antidote mixed with the awful-tasting jam which Dr. Nefario made and defeats El Macho after he drinks the PX-41 that made the minions evil. After El Macho collapses to the ground, Gru tries to untie Lucy who is strapped onto a TNT-equipped shark rocket. While attempting to do so, Eduardo's pet chicken triggers the launch remote, Gru says "I really hate that chicken.",and sends the pair flying towards the lava-spewing volcano where El Macho faked his death. While on the rocket, Lucy accepts Gru's date invitation before the pair dives into the safety of the ocean, just seconds before the rocket explodes. One hundred and forty-seven dates later, the two are married and the girls finally have a mother. The minions close with a rendition of "Y.M.C.A" and "I Swear" (mistakenly sung as "Underwear") while the family dances.
During the credits, 3 minions are seen trying to audition for the upcoming Minions movie, but the black wall showing the credits keeps falling and blocking their way. When the fly is buzzing around, Bob tries to hit it with a fly swatter. He fails and falls out of the black wall with Kevin and Stuart.
Cast
Main Characters
Secondary Characters
Additional Voices
Ava Acres
Lori Alan
Jack Angel
Eva Bella
Georgia Cook
John Cygan
Debi Derryberry
Danny Mann
Mona Marshall
Mickie McGowan
Mason McNulty
Alec Medlock
Laraine Newman
Jan Rabson
Andre Robinson
Katie Silverman
Casey Simpson
Claria Nicole Titman
Jim Ward
April Winchell
Additional Voices (uncredited)
Steve Alterman
Steve Apostolina
Bob Bergen
Gregg Berger
Rodger Bumpass
Kirk Baily
Robert Clotworthy
David Cowgill
John DiMaggio
Grey DeLisle Griffin
E.G. Daily
Paul Eiding
Chris Edgerly
Jeffrey Todd Fischer
Keith Ferguson
Eddie Frierson
Don Fullilove
Teresa Ganzel
Jackie Gonneau
Nicholas Guest
Rif Hutton
Bridget Hoffman
Wendy Hoffman
Richard Steven Horvitz
Danielle Judovits
John Kassir
Matthew Labyorteaux
Maurice LaMarche
Yuri Lowenthal
Sherry Lynn
Phil LaMarr
Jason Marsden
Jonathan Nichols
Nolan North
Phil Proctor
Paul Pape
Juan Pope
Gregory Perler
Colleen O'Shaughnessy
Kevin Michael Richardson
Peter Renaday
Pepper Sweene
Mindy Sterling
Kath Soucie
Shane Sweet
Fred Tatasciore
Marcelo Tubert
Kirk Thornton
Matthew Wolf
Kari Wahlgren
Hynden Walch
Collette Whitaker
Billy West
Lynnanne Zager
David Zyler
Marketing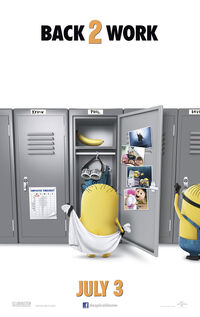 The overall theme for the promotion of Despicable Me 2 is "Back 2 Work" With a 2 Replacing to.
In the second trailer for the movie, released on November 2, 2012, that shows the Minions taking a break to play golf after putting the girls to bed, the theme from the original Halloween film is heard. The theme is not included in the movie.
In the same trailer, the phrase "Save us, save us" is heard at the end, which is from the song Man with the Hex as sung by the Atomic Fireballs. Then it shows Phil vacuuming, answering the door and getting kidnapped.
Sequel
Main article: Despicable Me 3
A sequel to the film was confirmed to be in development by Steve Burke in September 2013.[1] In January 2014, it was announced to be released on June 30, 2017.[2]
Home video
Despicable Me 2 was released on Blu-Ray, DVD and other home formats on December 10, 2013, with some electronic versions being available prior to that date.
At the time of release, the movie is available in three exclusive editions.
Best Buy sold a collectable soft lunchbox for $7.99. It was tagged as "(DVD)", but may not have included the movie, since that was sold separately for $17.99.[3]
Both Target editions includes the Blu-Ray and DVD versions, along with a bonus disc containing 3 new mini-movies, cast interviews (in character), and features on the Minions, music and making of the movie.[4] The the second version comes in a "Digibook" package and includes an abridged but full-color reprinting of The Anti-Villain League Handbook.[5]
References
External links