Non-canon!
This character or material has only appeared in non-canon material (such as games, etc.) and is not related to the main story.
The Girl Minion Costume is a playable character in the mobile-action game Minion Rush. It can be unlocked by 15 cards and 1 coin.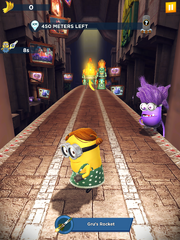 Gallery
Costs and Upgrades
Upgrades (in previous versions)
Trivia
This costume originated from Despicable Me 2, when Stuart dresses up with this costume.
Girl Minion's power (in the old version) was allowing Gru's Rocket to last longer.