Non-canon!
This character or material has only appeared in non-canon material (such as games, etc.) and is not related to the main story.
The Grandpa Minion Costume is a playable character in the mobile game Minion Rush. It can be unlocked by 20 Costume Cards and 1 coin.
Gallery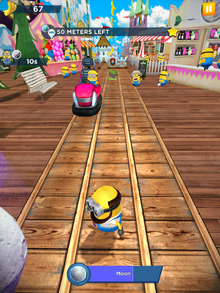 Trivia
Grandpa's Minion's power (in the old version) was collecting more bananas in the Mall by 200%.
The original version of Minion Rush can be heard while this costume is being seen.
Costs and Upgrades
Upgrades
Cost
2-star
3-star
4-star
5-star
Cost
6 Puzzle Pieces
5,000 Bananas
15,000 Bananas
45,000 Bananas
100 Tokens
Ability
Increase Bananas collected in The Mall by 200%

+25% Bananas


Increase Bananas collected in The Mall by 225%

+25% Bananas


Increase Bananas collected in The Mall by 250%

+25% Bananas


Increase Bananas collected in The Mall by 275%

+25% Bananas


Increase Bananas collected in The Mall by 300%
DSM
+1
None
None
None
None