Home Makeover is the first Despicable Me short film released on December 14, 2010. The plot revolves around Miss Hattie's Home for Girls sending someone round to make sure that Gru's House is fit for children.
The short was released as a part of Minion Madness and as a bonus feature on the Despicable Me Blu-ray. It was followed by Orientation Day and then Banana.
Plot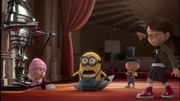 After a call from Miss Hattie's Home for Girls, Margo pretends to be Gru and then she is informed that a The Social Worker is coming for checking the safety of the house while their foster father, Gru, is not home. Soon, she and her sisters, Edith, and Agnes, enlist the help of the Minions to clean up Gru's house before a social worker makes an unexpected visit to check on the house's suitability for kids.
Apparently, a super villain's house is hardly the place for children, but the solutions the girls come up with are hilarious: placing tennis balls over the spikes in the coffin, putting a clown nose on the dining room skull, and painting the walls pink with a paint-filled bazooka, among other things. The Social Worker is satisfied with the place, though he passes out when a minion runs away and makes the fake "Mr. Gru" headless. Unfortunately, when Gru returns later, he also passes out when he sees the results - that's to be expected considering they made it all "girly."
Home Video
DVD
Despicable Me Presents: Minion Madness
Illumination 9 Mini-Movie Collection
Illumination Presents: 10 Minion Mini-Movies
Blu-ray
Trivia
If one looks closely at the social worker's report, he/she can see a note saying that "The adoptive parent is a little strange-looking. He has a big yellow head and short legs. Poor guy."
This is the first Illumination's direct-to-video short film.
Community content is available under
CC-BY-SA
unless otherwise noted.