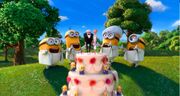 I Swear (sung in minion-speak as Underwear) is the song played at the wedding of Gru and Lucy, performed by the Minions. This appears in Despicable Me 2.
It is based on the version of the song, I Swear by John Michael Montgomery, and covered by All 4 One.
Lyrics
(Dave speaks)

Ah lapoda. Talaki ma tollina, ah...

Laba dee pochi la nocha...

Dave:


Wu blana ki leji, phopapu se la nanee...

Underwear...Lakale lirei wee jille byah ,lako reh...


Chorus:


Underwear...Lapakreh leguari de la keh...


Lapeile...Underwear...


Laga di libeda eligwa...la gua reh


Lesho lieh tu, a keli de luu


Le aholi du le gaso leala, underwear...


(Dave speaks)

Ladu, la amo dee underwear.

Trivia
In the Taiwanese version of Despicable Me 2, the minion pronunciation underwear is replaced by chòu chòu yā (Chinese:臭臭鴨, lit. stinky duck).
Videos
External links