Non-canon!
This character or material has only appeared in non-canon material (such as games, etc.) and is not related to the main story.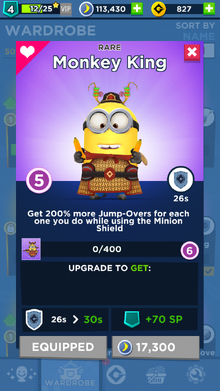 The Monkey King Minion Costume is a playable character in Despicable Me: Minion Rush. It can be purchased by real money and is mainly only available in China.
Trivia
The costume is unavailable in most platforms of the world, except one version for Android developed in China, just like the Panda Minion Costume.
It is based on a character Sun Wukong in a Chinese novel Journey to the West, published in 16th century.
In Chinese versions of the game (Qihoo 360 and Ruansky) , version 4.2.0 - 4.2.2 gave the costume a +99 DSM increase, but this was fixed in version 4.2.3.
The Costume Has made a return in the newest version of the chinese version (4.4.0), unlike the panda minion who was discontinued.
Costs and Upgrades
Upgrades
Cost
2-star
3-star
4-star
5-star
Cost
¥ 20
20,000 Bananas
50,000 Bananas
6 Tokens
12 Tokens
Ability
The 1st Revive is always free and increases Bananas collected in every race by 20%

+30% bananas


Increase Bananas collected in every race by 50%

+50% bananas


Increase Bananas collected in every race by 100%

+50% bananas


Increase Bananas collected in every race by 150%

+50% bananas


Increase Bananas collected in every race by 200%
DSM
+1
+1 (previously none)
+1 (previously +99)
+1
None