"
I love everything about your plan. Except for one thing: YOU.
"
 

— Mr. Perkins refusing to fund Gru's moon heist
Mr. Perkins


Information
Gender
Male
Age

53

Eye color
Green
Hair color
Dark Brown
Occupation

President of the Bank of Evil

Allies

Felonius Gru (formerly)
Vector

Enemies
Spouse

Unknown

Children

Vector (son)

Appearances
Voiced by
Mr. Perkins is the secondary antagonist in Despicable Me. He is a tall and plump man who runs the Bank of Evil. He is also Vector's father.
Personality
Mr. Perkins is a selfish and short-tempered man. He has a dislike for Gru for no real reason and stated that he preferred to use younger villains, such as his son. He also compared Gru to an apple and crushed two apples when speaking to him on different occasions.
While Mr. Perkins is proud of his son's accomplishments, he did get angry with his son for losing the Shrink Ray. Despite that, it is implied that he had an affection for his son due to nepotism as he keeps a portrait of himself giving a young Vector a piggy-back ride on his desk.
Gallery
Check out this page's gallery!
Trivia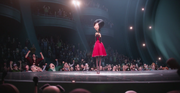 Mr. Perkins's appearance resembles Dilbert's pointy haired boss.
The painting seen in his deskroom resembles Napoleon on his Imperial Throne.
As he owns the Bank of Evil, he could easily be the most powerful person in the Despicable Me franchise, in financial terms, because he can literally do anything he want with them. Regardless, he did nothing on his own.
He was one of the attendees of Villain-Con in the film Minions, and he wore a black tie and a red vest; he cheers with other audiences in the beginning of Scarlet Overkill's speech.
To this day, his first name is unknown.