Illumination entity!
The name Once-ler's Mother does not belong to the Despicable Me franchise.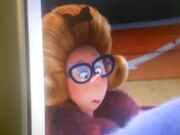 The Once-ler's mother, is, as implied, the mother of the Once-ler.
Appearance
The Once-ler's Mother has short curly blonde hair with a tiny red bow clipped on it. She wears big black glasses, a pink sweater with white polka dots, a long denim skirt, fur stole and turquoise boots.
Personality
She is moody, spoiled, lazy, snide, money-crazy, greedy and failure-intolerant. She is manipulative and abusive to the Once-ler.
Early Life
She went to help the Once-ler make Thneeds. It was her and the rest of the family that persuaded the Once-ler to chop trees down rather than harvest their tufts. She was proud of him only when he became greedy and self-righteous. But when the Thneed factory closed because of no more trees, she disowned him and told Bret that he is now her favorite child. She then left the Once-ler to be a hermit.
Relationships
Once-ler - She treats him very sarcastically and told him that he would fail in his life for untold reasons. When his business fails she promotes other sons to her favorite child.
Brett and Chet - The mother seems to treat them both nicely at times. She promoted Bret to her favorite child, when the Once-ler failed.
Community content is available under
CC-BY-SA
unless otherwise noted.