Phil is one of the Minions that appears in Despicable Me 2. He is voiced by Pierre Coffin.
Plot
Despicable Me 2
Phil and Stuart are cleaning up from Agnes's birthday party when they spot Lucy kidnaping Gru, so they go after them. Then, Phil manages to get on the back of her car and he grabs Stuart by his tuffs, but when Lucy sees them she stops the car then knocks him and Stuart with her lipstick taser. While underwater, he and Stuart are scared by sharks as they are heading for the AVL submarine, he also laughs at Stuart when he had a starfish on his body. Soon, both him and Stuart make fun of Silas Ramsbottom's name as they both said "Bottom." Next, they watched the video of the PX-41. Also, he along with Stuart are spooked by a mutated rabbit that they both faint, as they head back while Gru is rowing the boat home. Phil was telling him to keep rowing.
Phil is later seen during Dr. Nefario's departure as he and Jerry were both seen crying.
During Gru and Lucy's wedding Phil (or Tom) was seen taking pictures of the married couple and their family and friends.
Appearances in Other Media
Minions Paradise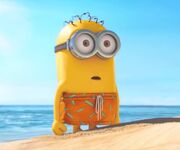 Phil appears in the mobile video game Minions Paradise as the main character. However, his appearance is very different, and the maid outfit becomes another character French Maid.
In the game, Phil also has several tasks for players to complete, and some of them can gain special collections for Phil, and the others appear often after each updates and can bring player prizes if they are completed.
Phil has most collections in Minions Paradise, and they are: Banana Bomb, Lava Lamp, Deep Sea Diving Kit, Banana Colada Pancakes, Girthday Cake, Stuart Ice Sculpture, Popsicle, Boomerang Throwing Star, Fancy Scissors, Water Ski Helmet, and Air Fresher.
Trivia
In Minions Paradise, Phil's wavy hairstyle can't be seen in the movies, and he doesn't wear black gloves as a typical minion does.
In a movie character poster, it is stated that Phil was the maid minion, however this was proven to be a mistake as the movie later revealed that the maid minion was actually Tom.
Gallery