Phil is one of the Minions that appears in Despicable Me 2. He is voiced by Pierre Coffin.
Plot
Despicable Me 2
While Phil was vacuuming the foyer, the doorbell rang. Answering the door, he opens it to see Dr. Nefario, not realizing Gru's old henchman was there to kidnap him.
Appearances in Other Media
Minions Paradise
Phil appears in the mobile video game Minions Paradise as the main character. However, his appearance is very different, and the maid outfit becomes another character French Maid.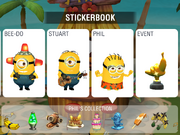 In the game, Phil also has several tasks for players to complete, and some of them can gain special collections for Phil, and the others appear often after each updates and can bring player prizes if they are completed.
Phil has most collections in Minions Paradise, and they are: Banana Bomb, Lava Lamp, Deep Sea Diving Kit, Banana Colada Pancakes, Girthday Cake, Stuart Ice Sculpture, Popsicle, Boomerang Throwing Star, Fancy Scissors, Water Ski Helmet, and Air Fresher.
Trivia
Phil is popular with his maid appearances, actually Tom looks as same as him.
In Minions Paradise, Phil's wavy hairstyle can't be seen in the movies, and he doesn't wear black gloves as a typical minion does.
Gallery