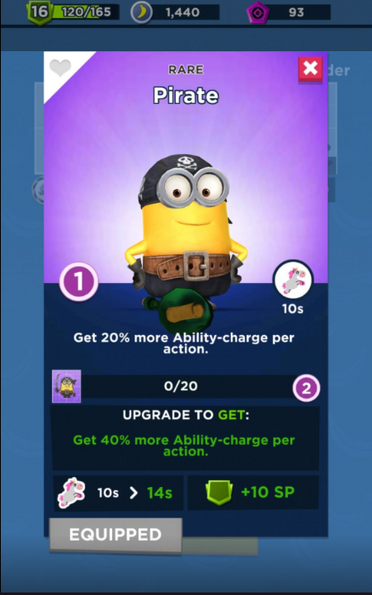 The Pirate Minion Costume is a playable character in Minion Rush. It costs 50 costume cards and 10 coins to unlock or can be won in occasional bundle offers in the Shop.
Trivia
The costume was not avaliable in the Pirates, Ahoy Market so the only way to get his cards before 7.2.0 was through the last 3 stages of the special mission, via daily reward (double reward was needed to unlock him) and rarely through silver prize pods along with Spring costume.
Before 7.2.0 update pirate minion card icon was backwards.
In version 7.8.0 the Fluffycorn Minion was added with 200% more ability charge per action, and its abillity can be upgraded up to 350% while pirate was up to 180%.
It was first added in 7.1.0 update
The pirate minion was based on a deleted scene of the Minions film that the minions served a pirate but he was possibly eaten by a shark and was deleted from the film, thus never appearing in the films or shorts.