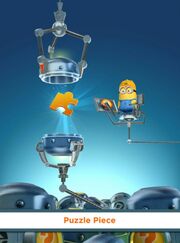 Puzzle Pieces are items in Minion Rush. They are, hence the name, orange Puzzle Pieces. Puzzle Pieces can sometimes be earned after collecting three Bapples during a daily event and opening a Silver Prize Pod. They can be earned only on any of these conditions:
Day 5, 15, 25, 35, 45, 55, 65, 75 or any day that ends in a 5
Sometimes you will get a puzzle piece even if it is Day 1+
Certain Minions are unlockable only with Puzzle Pieces:
Grandpa Minion (6)
Disguised Minion (16)
After Bapples have retired from the game in Update 2.0.1. (the Jelly Lab Update), Puzzle Pieces are much more difficult to come by, as Silver Prize Pods are no longer awarded to players during daily events (replaced with Tokens and Bananas mostly). The remaining ways to obtain Puzzle Pieces are by earning Silver Prize Pods or Golden Prize Pod as a reward (Players can get them by competing in global competition events), and the latter have a higher chance of rewarding players with Puzzle Pieces.