Scarlet's Castle was the castle which Scarlet and Herb Overkill used to live; it was later destroyed during the chase for Kevin by some villains.
Appearance
The castle is painted white with four towers, all with red roofs, the main roof as well the door have the letter "S" on it. The castle itself is delimited and surrounded by a white stone wall.
Some notable rooms inside the castle are: An apron where Scarlet's airship stops; Herb's Lab, where Herb creates gadgets and weapons; the Loot room, which Scarlet uses to store her stolen haul; and at least one Guests' room, where Kevin, Stuart and Bob spent one night.
Layout
Loot Room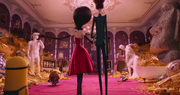 After Scarlet goes back to the castle with the Minions, she brings them into the big room with treasure she had stolen. Scarlet says, "Just a few things I stole to help fill the void." In addition to many golden treasures, there are many renowned sculptures in her room, including David by Michelangelo, a marble Discobolus, and a Moai Statue from Easter Island.
Later, Scarlet explains her plan for stealing Queen Elizabeth II's crown to the Minions.
Herb's Lab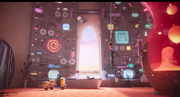 Herb Overkill owns a laboratory which has many delicate machines, and there's a large lava tank and a platform above it.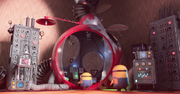 There's also a small room with a spherical shape, when the Minions are about to go into it, Herb stops them. It is Herb's Laser Enlarger, which eventually causes the destruction of the castle.
In this room, Herb give gadgets to each minions. Scarlet is satisfied with their appearances when they're armed, though Bob has problem controlling Stretch Suit. Then, Scarlet takes the three minions into a guest room to rest.
Gallery
Community content is available under
CC-BY-SA
unless otherwise noted.