"
Alrighty, who needs to stretch their legs?
"
 

— Walter Nelson about to rob a bank with his family
Walter Nelson Sr. is a minor character in Minions. He is the father and leader of the Nelson family, who gave Kevin, Stuart and Bob a ride to Orlando.
Plot
Minions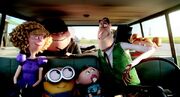 He and his family are criminals, and were seen stealing money from the bank along with Madge and his children, Tina, Walter Jr., and Binky leaving the three minions inside the car.
They then got chased by the cops. He asked Kevin and Stuart who did the shot from the bazooka that stopped the cops which made them at first pointing out each other to blame but after Walter shows that he's amazed, they now grab the bazooka both claiming in front of him whoever got the shot, to get his compliment.
He, with his family appeared at the villain-con where Scarlet Overkill is, and afterwards cheers for the minions when they got Scarlet's ruby, after many failures. He also appears when the three minions are being chased by the crowd after Scarlet's coronation ceremony, where he shouted to the minions to run away as fast as they can.
Binky Nelson Unpacified
Walter is driving with his family back home after a sucessful heist in a museum, and realizes that Binky's pacifier must have been left at the museum, he, unable to drive back, tells Binky that he doesn't need it anymore. Towards the end of the mini-movie, Madge and him go check if Binky is alright on his bedroom; they find the baby peacefully asleep, inadvertently of his venture back to the museum.