"
You, one eye! You're sitting next to me!
"
 

— Walter Jr. askes

Stuart

to sit next to him
Walter Nelson Jr. is a minor character in Minions. He is a son of Walter Nelson and Madge Nelson and Tina Nelson's older brother
Appearance
Walter Nelson Jr. is a tall, chubby boy with black hair and black eyes.
Plot
Minions
He was first seen after his family offered Kevin, Stuart and Bob a ride to Orlando. He asked Stuart to sit beside him, at the back while Bob was placed on the front and Kevin beside Stuart and Tina. His parents soon rob a bank then, thanks to Stuart and Kevin, gets rid of the cops who are chasing them. While traveling, he actually fall asleep next to Stuart. Soon when they reached Orlando and departed from the minions, he reappeared with his family, cheering for the minions when they were successfully chosen to be Scarlet's new henchmen. He also appears when cheering for Bob being the new ruler and also while Scarlet is getting her throne, both along with his family.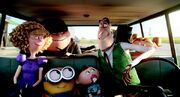 Binky Nelson Unpacified
Walter Jr. is seen with his family after they had robbed a museum.